Spaze Grand Central 114
Sector 114 Gurugram
78 - 160 sqyd.

SCO Plots

Call for Price
SPAZE GRAND CENTRAL SECTOR 114 GURGAON
Grand Central 114 is a distinctive Shop-cum-office (SCO) format with rich social infrastructure, a bustling ecosystem and a strong base of consumers. It's the perfect amalgam to showcase your business on a grand scale and to let the shoppers get the best in a glance. The project is strategically located in a prime location so that you can avail maximum advantage of your location. Grand Central SCO is developed by the best architectures with efficient spaces for retail shops and office outlets. All shops here are double heightened with a low-maintenance module. Office spaces stuffed with modern facilities on the third floor and upwards.
The location is offering excellent connectivity to places like Delhi & Gurgaon, Connectivity to Dwarka Expressway, and many more places. Spaze Grand Central is completely fresh and designed in such a way that you get everything on one roof. Spaze Grand Central is spread over 12.5 acres of green and vast land area. FAR of individual plots is 4.285. There are approximately 200 plots with different size areas. The sizes of these plots are varying from 60 Sq. Yds to 160 Sq. Yds. The height of the floors is around 15 meters. The number of floors allowed is Basement+ Ground + 4 Floors.
AMENITIES
• Spaze Grand Central 114, is offering land ownership with terrace rights.
• The property is very low on maintenance.
• There is great return on investment.
• Spaze Grand Central 114 is offering an efficient pedestrian path.
• There is ample parking space so that your luxury cars can be safely parked.
• Spaze Grand Central 114 is offering a Flexible plot module for Retail & office spaces.
• Spaze Grand Central is offering health and fitness facilities like salons, spas, and many more things.
• Gym is very important to maintain fitness considering the same there are luxurious fitness facilities with an experienced trainer.
HIGHLIGHTS
• Spaze Grand Central is having collaborations with brands like D'Mart, Brand Factory, BigBazaar, Shopper stop, MNC offices, Departmental stores, Doctor Clinics, Architects, CA's etc.
• There is Pre-handover Benefits of 14% pa till plot possession.
• Registration No: GGM/540/272/2022/15
• Lifts are installed for your convenience so that you can move smoothly around the property.
• The architects who have worked on this property are highly experienced in their field and considered every smallest point in mind while designing the structure of this property.
• Spaze Grand Central is very much concerned about the depleting environment considering the same there are rainwater harvesting systems, provision of solar lights, and many more things.
• The property is designed keeping in mind Vaastu compliance.
• In case of emergency, there are emergency sirens, intercoms, fire alarms, etc.
LOCATION ADVANTAGES
• Sector 114, is strategically located at the Junction of Delhi & Gurgaon.
• This is emerging as one of the prominent destinations for IT/ ITES companies. Stretching along 18 KM the eight lanes and 150-meter-wide expressway provide seamless connectivity between Delhi, Gurgaon & Manesar.
• Diplomatic Enclave in the vicinity.
• Close proximity to Sobha International City, Puri, Chintels, ATS, Godrej, Experion, Raheja, BPTP and Dwarka, etc.
• International Airport 5 Mins drive, Dwarka expressway is 1 Min Drive, Delhi Border is less than 1 KM, and NH 8 is 10 Mins drive.
Spaze Grand Central Price List
Sizes

Total Price

More Details

78 sqyd

On Request

Call for Price

89 sqyd

On Request

Call for Price

105 sqyd

On Request

Call for Price

126 sqyd

On Request

Call for Price

136 sqyd

On Request

Call for Price

160 SQ.YD

On Request

Call for Price

PLC – As applicable EDC /IDC + ECC + IFMS – Rs 36,000/- Sq.Yd. Approx
126 sqyd
On Request
Call for Price
136 sqyd
On Request
Call for Price
160 SQ.YD
On Request
Call for Price
PLC – As applicable EDC /IDC + ECC + IFMS – Rs 36,000/- Sq.Yd. Approx
SPAZE GRAND CENTRAL Master Plan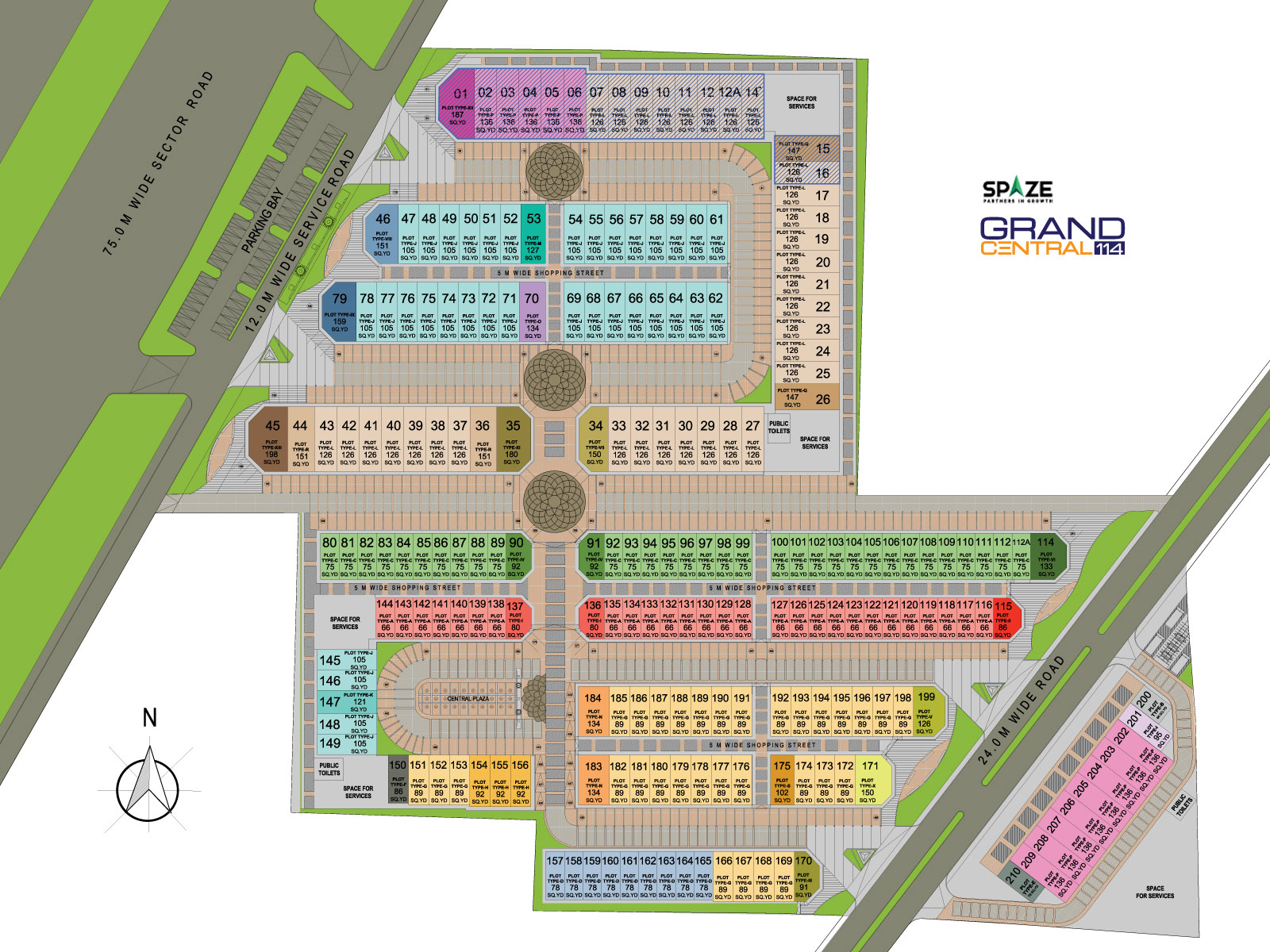 SPAZE GRAND CENTRAL Location Map