Elan Fashion Boulevard
Nirvana Country, Sector 50, Gurgaon

386 Sq. Ft.

Shop/Food Court/ Multiplex

1.90 Cr*










Elan Fashion Boulevard, Sector - 50 Gurgaon
Fashion Boulevard, Sector - 50 Gurgaon
Retail Shops | Food Courts | Gaming Zone | Restaurants | Office Space
Paradise is more than a retail concept It is the most revolutionary vision that is timeless and way ahead of today It is an exclusive space for the most exclusives who value rarity in the most unique form It is a singular magnificence that is ready to take on the retail world by storm It is Paradise it is more than the mind perceive
Elan Group Launch Fashion Boulevard at the most premium & developed location i.e Nirvana country, Sec-50 , Gurugram Which will be a one stop destination for all fashionista's in the city. Fashion Boulevard defines the magnificence with its innovative features like Fashion Sculptures, Water Curtain, LED Screens and many more…. Catering to all finest brands under one roof, Fashion Boulevard will give an unforgettable & hassle free shopping experience to all fashion lovers. More features like Vallet Car Parking , Golf Cart Pickup & Drop will take the shopping experience to next level…
Investment in the exclusive project starts from 1.90 CR only.
• One of the Biggest Water Body for a Commercial Project
• Hanging Retail Pods Showcasing Luxury Brands
• Double Height & Road Facing Shops with Maximum Visibility
• 5 Silver Screens State of the Art Multiplex
• Floating Restaurant/Cafe & Bar in the Atrium
• Surrounded with Dense Residential Projects
• Digital screens, highly reflective surfaces & interactive LED lighting
Elan Fashion Boulevard Price List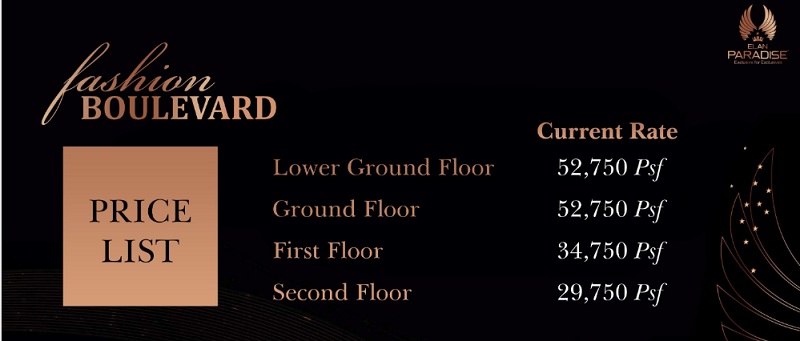 Elan Fashion Boulevard Location Map